Moving Images in Adobe Lightroom
One of the strengths of Adobe Lightroom is that it keeps track of everything in a database. But this strength can also end up being a weakness if you don't understand the implications. If you shoot enough images, at some point you will run out of room to keep them and need to move all or some to a new drive. But if you're not careful, this can confuse Lightroom no end. You can easily avoid this problem if you move them the right way. Or, if you forget, or if you prefer, you can also easily fix it afterwards.
The Lightroom database stores the metadata for all the images in your catalog. It also stores pointers so it knows where on disk all those images actually live. You can move around most documents on your hard drive as you see fit using Windows Explorer, Mac Finder, or similar file management application, but moving images cataloged in Lightroom this way will break those pointers, resulting in Lightroom not knowing where the images went. When you start Lightroom up next, you'll see question marks on top of each missing folder and image. By moving the images behind the back of Lightroom, all it knows when it next starts is that they are gone. As it starts, you can almost hear it thinking "hey, what happened? Where did all my images go?" Oops.
To avoid this seeming disaster, the easiest approach is to move the files from within Lightroom. From the Library module, you can expand out the Folders list and drag and drop as needed. If the target folder isn't listed, you'll need to first add it by clicking on the plus sign on the right hand end of the top of the Folder list. When you do you'll see two similar looking choices: "Add Subfolder" and "Add Folder." It's the second one you want. From the resulting "Browse For Files or Folders" dialog box, locate the folder you want to add and click on "OK." You can also make a new folder from here if you haven't created it already some other way. Regardless, once the folder is visible in the Library module, you can drag and drop images as you see fit and Lightroom will keep track of what you do so that everything stays in synch.
But if you're already at the point of seeing all those question marks because you didn't read this article before moving your images, don't panic. All your best images aren't really lost, and this problem isn't really a disaster. You can repair those broken links after the fact relatively easily once you know how.
In fact, if all you need to do is move your main image directory from one drive to another complete with all its contained subfolders and everything in them, repairing things can be so straightforward that you might want to go ahead and use your operating system to do the move, and then restart Lightroom so you can fix the broken links. I just got done doing exactly this yesterday as I moved my images from a locally attached RAID drive to network attached storage. Dragging and dropping large numbers of images from within Lightroom can be a bit tedious, so I didn't bother.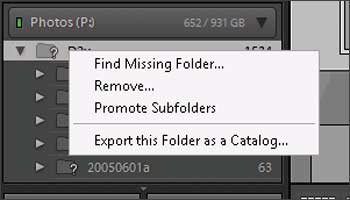 After the move, start up Lightroom. Yes, you already know you will see a bunch of question marks. To fix them, right click on the top level folder you moved and select "Find Missing Folder." Navigate to the new location and click on "OK." So long as everything you moved retains its original relationship to this main folder, fixing it fixes them. All your question marks should go away as Lightroom refreshes its display. See, I told you it was easy.
So what if all your image folders live within a main parent folder, but you never added it to your catalog? What if all you ever had were all those individual subfolders listed? Yes, you can follow this procedure to find each missing folder, but if you plan ahead, there's a better way. Before you do your move, right click on one of the subfolders in the Library module and select "Add Parent Folder" to add it to the Lightroom catalog. Now go ahead and shut down Lightroom, drag that parent folder to where you want it to now be, then restart Lightroom and fix its link with "Find Missing Folder." Since all your original folders are underneath the same parent, as described previously, finding and fixing it will repair the broken links for all the child folders and images.
The Folder pop-up menu can also perform other similar feats. If you've copied a folder to another location outside of Lightroom rather than move it, you can right-click on that folder in the Library module and select "Update Folder Location" to tell Lightroom to look for it elsewhere. Forget where a Library folder actually lives on your system? Right click on it and select "Show in Explorer." You can also rename a folder, remove it from the Lightroom Library and more.
One final point, you should always try to keep more than one copy of at least your important images. With the cost of disk space these days, I'd recommend keeping an offline copy everything for simplicity sake. Simply plug in an external USB drive and make a backup with your favorite method. You hopefully will never need this backup, but you never know. Better safe than sorry.